XRP Price Prediction: XRP/USD Strives to Make a Rallying Effort from the Recent Significant Drop
XRP Price Prediction – April 19
As the XRP/USD market suddenly witnessed a sharp drop in its valuation, price in no time during the falling pressures also saw a pull-back to denote some amount of efforts being made by buyers in staging a comeback.
XRPUSD Market
Key Levels:
Resistance levels: $1.60, $1.80, $2
Support levels: $1.20, $1, $0.80
XRP/USD – Daily Chart
Looking at the current path to the south made in the XRP/USD market, the featuring appearance of the variant bearish candlesticks still takes on the buy signal side of all the indicators.. The 14-day SMA trend-line is located over the 50-day SMA indicator with a notable And, that brings the whole market noise to saying that the downward move is to probably make a correctional move gap between them. The Stochastic Oscillators are down into the oversold region trying to make a cross-back. That signals that there may soon be a line of preparation to get to see a return of upsides in the crypto-trade.
Will the XRP/USD market push northbound back to the high of $2 soon?
It may now take a sizeable number of days' sessions before seeing a more desirable buying pressure that will potentially surpass the previously achievable high value of $2. In the nurturing of that sentiment, the XRP/USD bulls need to the cognizance of the support level at $1.20 into serious consideration as price may for the second time revisit it for touch. As it is, better buying entries will be potentially featuring while price makes bearish-reverses towards or around the market level earlier mentioned.
With the present form of the XRP/USD market correctional outlook, bears capacity will be negated if levels between $1.60 and $1.80 do not serve as a tough resistant trading area in the wake of bullish trend elongation. Hence, traders having the bias of going short in this market at those zones need to be very cautious to not get whipsawed afterward.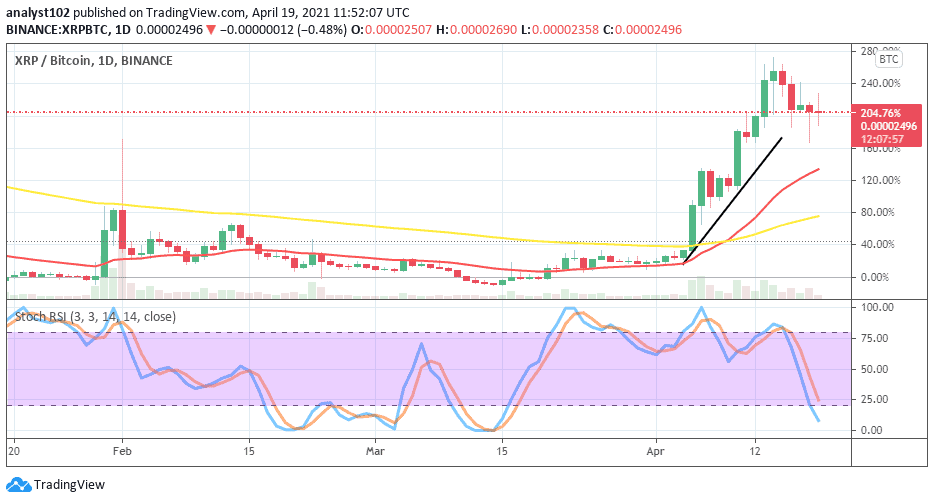 XRP/BTC Price Analysis
About a couple of days' trading sessions, there have been some bearish candlesticks to signify a slight drop in the valuation of XRP as compared with BTC's. That said, the trend is still on the side of the base crypto taking the edge over the counter trading instrument. The 50-day SMA indicator is below the 14-day SMA trend-line. And, they both point toward the north below the high point at which Ripple XRP has weighed against Bitcoin. The Stochastic Oscillators are making a fresh move into the oversold region to probably get set for denoting other market direction between the two trading cryptos.