Litecoin Price Prediction: LTC/USD Extends Value to Trade Closely a High of $400 Resistance
LTC Price Prediction – May 9
LTC/USD breaks through some resistances to touch a high market closer to the level of $400 about a couple of days back. Price, as of writing, is trading around $360 with about a 3.72% increase.
LTC/USD Market
Key Levels:
Resistance levels: $400, $440, $480
Support levels: $300, $280, $260
LTC/USD – Daily Chart
The daily chart reveals that LTC/USD has featured variant higher lows over the crucial resistance level of $320. The coin now hovers around $360 market point that is believed to be a vital trading zone to determine the continuity of the bullish trend of this trade. The 14-day SMA trend-line has bent more towards the north above the 50-day SMA indicator to ascertain the degree of energy being exerted in the trade by the base crypto. The Stochastic Oscillators are in the overbought region to suggest the possibility of getting to either sees a pit stop or slight trend reverses at the point earlier mentioned.
Will the LTC/USD price surge higher above the $400 resistance?
The technical analysis showcases that the LTC/USD bulls are relatively still in action. The support area of $320 may stand as the pivot point where the crypto regains re-grabbing of an uptrend. A breakdown could lead to finding another lower support between $300 and $280 values afterward.
Looking at the downside, a strong rejection of price at the $400 resistance point may result in the emergence of a bearish candlestick to signal a return of downward trend. In addition, the downside will be as well be in a correctional outlook. In the process of that scenario playing out, the crypto tends to witness a low of $280 in the aftermath event.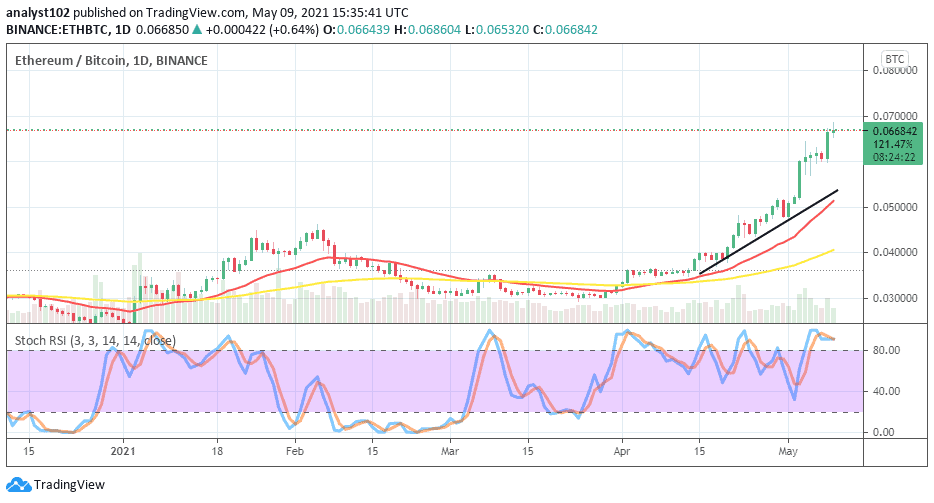 LTC/BTC Price Analysis
It is depicted on the chart that LTC, as the base crypto, is gaining significantly in the crypto market space more than BTC, as the counter trading instrument on the scale of valuation weighing presently. However, the base coin appears facing a line of difficulties breaking through some higher resistance at a higher trading zone. The 14-day SMA trend-line is located over the 50-day SMA indicator. The Stochastic Oscillators have moved down from the overbought region to point towards the south briefly past range 80. That signals the possibility of seeing the base crypto experiencing a less-active moment as paired with its counter crypto. And, if that is prolonged; the counter may probably take up it to launch a come-back in the market.