Is Yearn Finance (YFI) WOOFY Token 45% Gains Making Crypto A Joke?
Yearn Finance (YFI), the yield-farming protocol, is seeking to exploit the growth of meme coin interest rapidly growing sector after launching the WOOFY token. Canine and meme tokens have been gaining amidst Dogecoin's recent price pullback.
However, the users of Yearn Finance may be investing in the tokens too early without understanding what they are and how they can derive value from them. Nevertheless, the early adoption has boosted the prices of the token. In just 24 hours, YFI has increased by around 45% to around $82,900.
Race to Purchase another 'doggie' coin: WUFFY
Now there are rumours of a new token coming soon, with speculation circulating on Twitter over the past 24 hours and Yearn users talking about the possible launch of a new token termed 'WUFFY.'
Accumulating
Whales preparing to mint$WUFFY to the moon

https://t.co/QykO456LOt

— dudesahn (@dudesahn) May 11, 2021
Yearn users then entered into a challenge involving posting a picture of themselves being licked by a dog with the caption "Banteg", the name of Yearn's developer. It wasn't long before the pictures were proliferating all over the crypto Twitter-verse.
Yearn users have been known to rush into new tokens without taking time to understand them. Yearn Finance launched WOOFY to enable redenominating YFI holdings and offer a bi-directional interface to YFI at a conversion ratio of 1:1 million.
However, Yearn users who failed to understand this concept inflated WOOFY's prices so high that it appears YFI's value is $1.5 million per token.
YFI was trading at around $88,200 on May 12, depicting a 43% growth in 24 hours.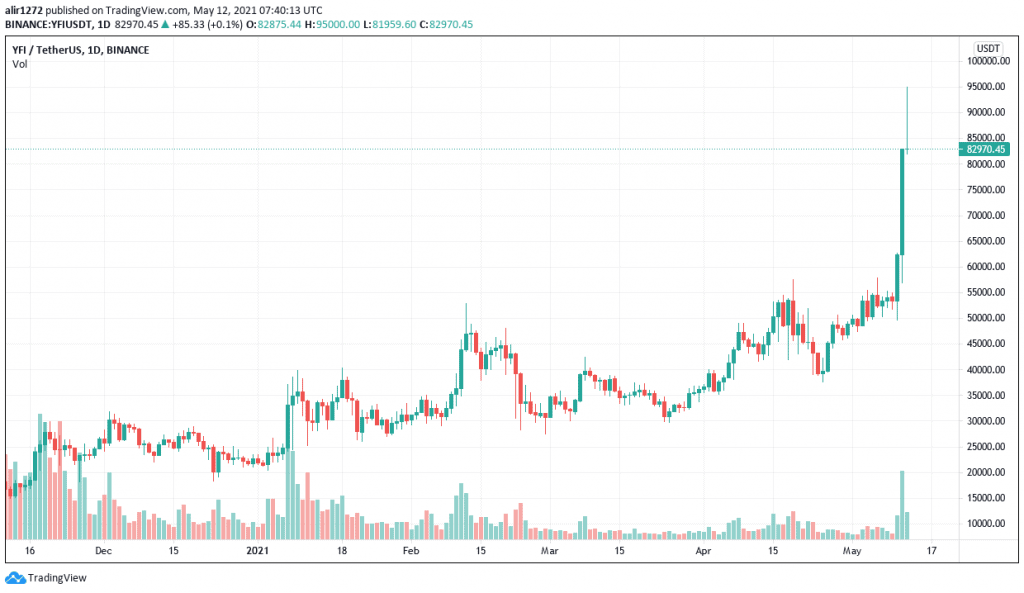 Divided opinion on YFI
The opinions of Yearn users and the wider crypto community regarding WOOFY are sharply divided. One Twitter user stated that the hype surrounding the new token was a strategy for cheating new users into buying more of the token and inflating its price. He added that the strategy was "a brilliantly timed and themed 'unit bias a/b test." He further offered insights on trading activity when there is high supply and low fiat price compared to low supply and high token price.
Launching the WOOFY token may be a strategy to reduce YFI's price volatility because it will create an arbitrage opportunity for the two tokens. However, the demand for WOOFY tokens over YFI tokens will not affect YFI's market capitalisation.
On May 12, WOOFY was trading at around $0.09, a 3% premium to YFI tokens.
Hayden Adams, Uniswap's CEO, commented on the matter stating, "Two way peg means it's impossible for WOFFY to trade at a premium to YFI for any significant amount of time. "This is just a weird way to transfer wealth from unsophisticated users to arbitrage bots and Ethereum miners," he added.
Get free crypto signals – 82% win rate!
3 Free Crypto Signals Every Week – Full Technical Analysis