Bitcoin Price Crashes: How To Gain 134% By Buying a Hedging Token
Bitcoin price crashes but that's an event that could make you a winner. If you want to stay in the crypto market but get some upside from the downside, then hedging is the solution and Amun's bitcoin leveraged short instrument on bitcoin is just the ticket, returning 134% in the past 24 hours.
One of the advantages of a fast-maturing crypto market is the wealth of derivatives products that are now available to retail crypto investors. So when crypto prices crash you can profit if you take a more sophisticated approach.
In addition to the popular futures and perpetual swap products, it is now possible to buy a straight-up easy to access and understand leveraged short on bitcoin.
Just as you can buy an ETF that will give your a 2x or 3x exposure to a rise in the S&P500 or the FTSE 100, you can just easily take a trade in the opposite direction, with an inverse ETF.
These opportunities are today available to the retail crypto trader, including buying an inverse 3x on bitcoin. That means when the price falls $1 it is magnified by 3x, so you would register a gain of $3 on a short trade.
However, because the short position is leveraged it means that you are also paying for the cost of borrowing, so the fees will tend to be higher. This also applies in the crypto world, but less so.
Bitcoin price crashes: go short and profit
Crypto fund manager Amun provides 3x short exposure to bitcoin through its Amun Bitcoin 3x Daily Short (BTC3S) exchange traded product, which has a tokenised version for those without access to the Swiss SIX stock exchange.
You can buy Amun Bitcoin Short 3x (BTC3S) on Huobi Global and a number of other trading venues such as HitBTCThe ETP was launched at the beginning of last year. with the tokenised version following in June 2020.
For those who saw the writing on the wall for crypto, and bought into BTC3S 24 hours ago, they will have seen their investment grow by 134%.
If you buy the tokenised product direct from the provider you have to go through a convoluted minting process on Amun's Jasper network, but thankfully there are more straightforward ways to gain exposure.
However, if you go down the minting route then you will need to pay with the USDC stablecoin. Take the secondary market approach, and you can accessed the product via a number of leading exchanges such as HitBTC, Liquidity and Huobi Global.
This is how Amun Bitcoin 3x Daily Short works
BTC3S uses perpetual swap contracts to achieve -3x daily returns, which is done through the aggregation of order books across a number of leading derivatives exchanges – although its blurb on the Amun website doesn't say which ones.
Because of the compounding effect holding the instrument for longer than a day "can result in returns that are significantly different".
Before buying, investors should be aware of the risks involved in shorting. When you take a long position, if it moves against you there is a finite amount you can lose, which is set if the price of the asset falls to zero. But this is not the case with shorting.
In fact it is the opposite – losses are infinite in that if the price you are betting will fall moves against you, your losses are potentially open-ended as there is theoretically no upper limit to the price appreciation. Suffice to say trading on margin magnifies those risks and makes stop-losses absolutely essential.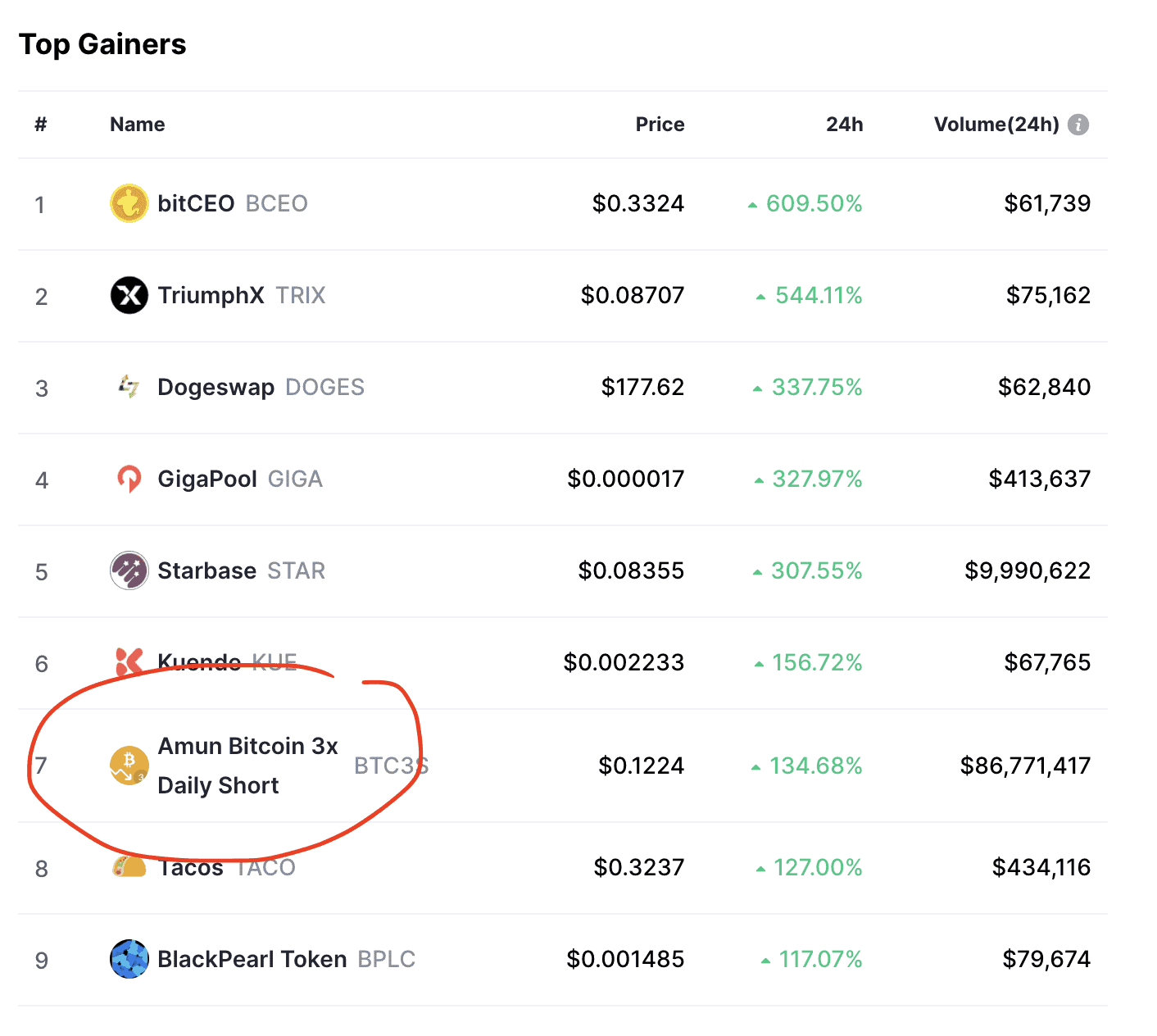 Of course there are many other ways to effect a short position on bitcoin, such as by buying a put option. But if you prefer  the relative simplicity and fractionalisation that is available with trading the BTC3S token, then it might be worth a look, while you hold onto your bitcoin and wait for the recovery.
Looking to buy or trade Bitcoin (BTC) now? Invest at eToro!
75% of retail investor accounts lose money when trading CFDs with this provider