Bitcoin Cash Price Prediction: BCH/USD Sets on a New Higher Value Record Having Hit a Resistance Level of $1,200
BCH Price Prediction – April 17
The month of April this year has had it on its financial book of records as the market worth of BCH/USD continues to soar higher northbound to eventually touch a resistance around the line of $1,200 during yesterday and today's sessions.
BCH/USD Market
Key Levels:
Resistance levels: $1,200, $1,300, $1,400
Support levels: $900, $800, $700
BCH/USD – Daily Chart
In the last couple of days, there has been tremendous featuring of higher trading candlesticks on the BCH/USD daily chart. And, most of the trading indicators still suggest that more upsides are still imminent in the near time. The 14-day SMA trend-line strongly points towards the north below the bullish trend-line. The Stochastic oscillators are in the overbought region moving in a manner of consolidation to indicate the firm dominance of bulls in the market. All in all, the overall verdict on the indicators is that more up rises in the valuation of this crypto has a higher probability to later on continue in its bullish moving manner.
Will the BCH/USD market keep its price pace beyond the main resistance line of $1,200?
It is most likely that the market worth of BCH/USD will get a further increase after a while as price now trades under a resistance weight of $1,200 level. With the emergence of a big bullish trading candlestick yesterday, more buying points are expected to prevail within space of it. However, a dump breaking the $900 support line to the south may risk the risk of revisiting a lower level of $700 support..
About the downside of this crypto-market, there has been a form of two resistances trading of points at $1,000 and $1,200. The BCH/USD bears need now to brace up their energy to put more pressure on any upward reversal below those two higher trading points. A free fall-off is not in any hurry going to come to play in near time.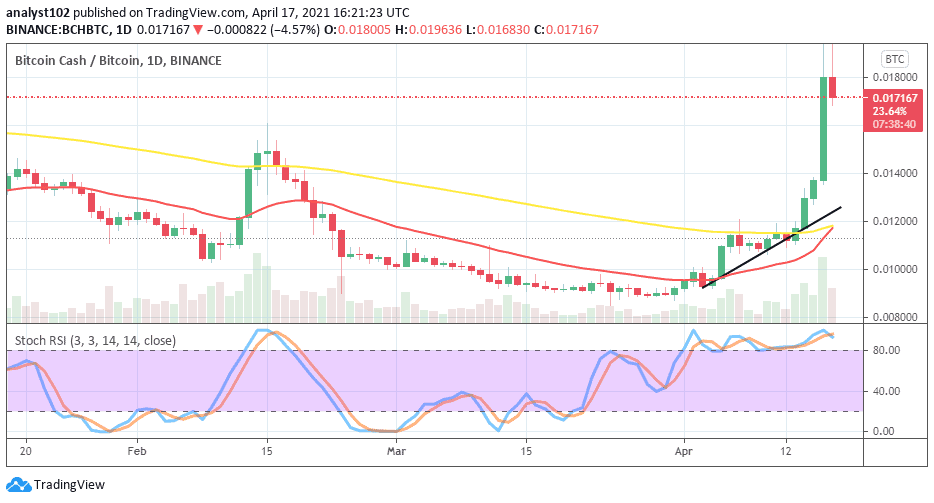 BCH/BTC Price Analysis
There has been a very sharp increase in the market worth of BCH as compared with BTC. Bitcoin Cash will be more having a smoother push in putting more pressure on Bitcoin in the next trading operations. The 50-day SMA trading indicator has been touched from below by the 14-day SMA trend-line. The Stochastic Oscillators strongly moving in a consolidation mode in the overbought region. That suggests that the counter crypto hasn't had a better-off stance against the base crypto's purchasing power as of writing.