3 Causes of Cardano (ADA) Strength While Market Falls
It's time for Cardano (ADA) to have its day in the sun, as it captures buyers' interest by printing new all-time highs.
Meanwhile the wider market has been hurting. Last week, over $300 billion worth of crypto investments were wiped off the market. Bitcoin's price has shed almost 20% over the last seven days and it has dragged the wider crypto market down along with it.
All this happened following an announcement from Tesla CEO Elon Musk, who said his firm would stop accepting Bitcoin as payment for his electric sedans due to energy concerns.
Tesla & Bitcoin pic.twitter.com/YSswJmVZhP

— Elon Musk (@elonmusk) May 12, 2021
However, he noted that a crypto protocol with less than 1% of BTC's present energy demands would be welcome.
This is how Cardano's ADA was able to shine in a badly hit market. While most crypto projects slumped, ADA grew almost 45%, reaching a new all-time high of $2.39 before correcting to trade just above $2.
Even though many industry experts have pointed to Cardano's ADA energy consumption advantage over Bitcoin and Ethereum, there are several other benefits that have led to the altcoin performing so well in a falling overall crypto market.
1.Green Coins (PoS Algorithm)
Cardano's ADA, unlike Bitcoin and Ethereum, uses a proof-of-stake (PoS) protocol called Ouroboros. This allows miners to validate transactions according to epochs or time-frames depending on how many coins they hold. Accordingly, this leads to much less energy consumption.
This has led Cardano's CEO Charles Hoskinson to brag that ADA is 1.6 million times more energy-efficient than Bitcoin.
The PoS protocol is also faster in validating transactions than 15 transactions per second (TPS), which the Ethereum network currently delivers. It now boasts 257 TPS but could grow much faster when its roadmap is complete. Cardano has also been dubbed the Ethereum killer due to the continued and steady development of its network.
And with the growing energy concerns made more palpable by the Tesla boss, ADA may become the best performing crypto asset in the coming weeks.
2. Cardano Roadmap
Speaking of a plan, Cardano has been the most consistent blockchain network in the crypto space. Hoskinson, who also co-founded Ethereum, quickly realized that Bitcoin and Ethereum were flawed.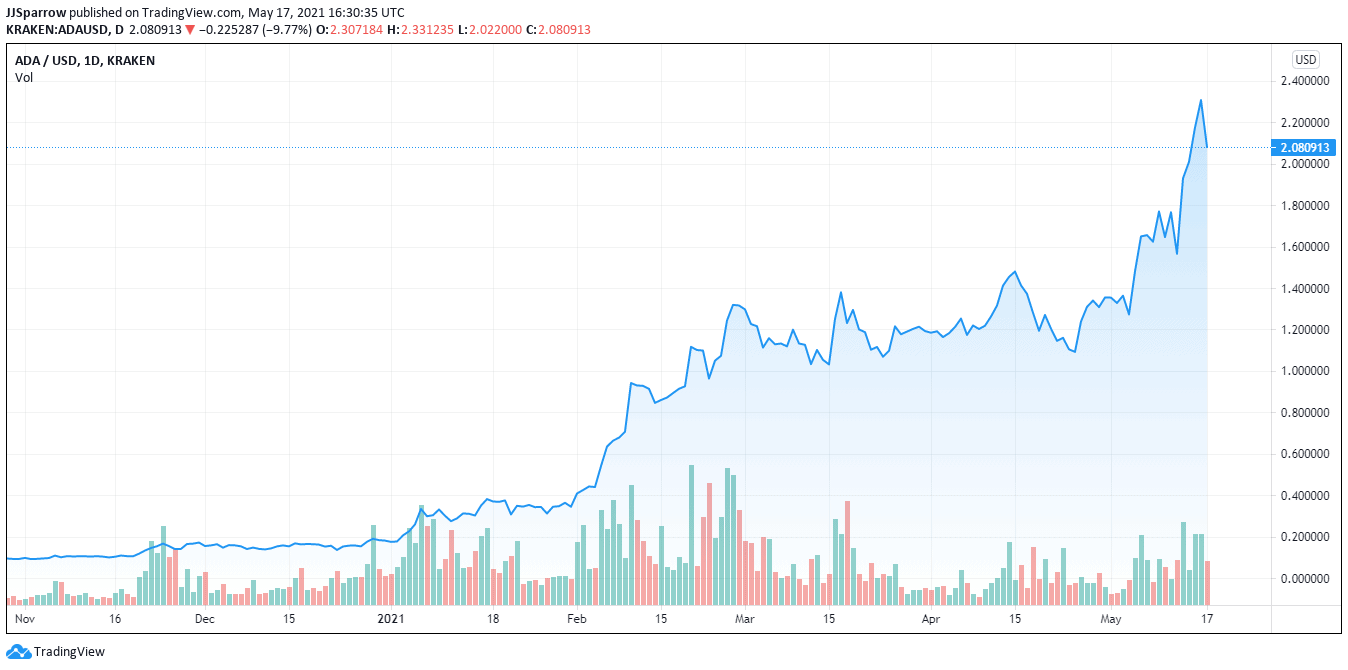 Soon after leaving the Ethereum Foundation, the mathematician founded Cardano and released a roadmap. Highly consistent, the decentralized platform has completed three of its upgrades already. All of these changes have been influential on Cardano's ADA.
Adding to an already impressive resume, the Cardano network signed an agreement with the Ethiopian government to register over 5 million students and teachers to its Atala PRISM identity solution. Alongside this, the enterprise blockchain framework would also track the performance of students in local schools.
3. Cardano Has A Small Dollar Price
Another main attraction to Cardano's native token has been the price advantage of owning Cardano's ADA. Compared to Bitcoin's mammoth $50,000 and Ethereum's $3,500 price valuation, Cardano's $2 seems like a great bargain. Investors can afford to gain more exposure to the ADA token without forking out too much, and as the coin is poised to live up to its "Ethereum killer" moniker, many crypto investors may soon turn their attention to the altcoin.